Having your dog lost for 24 hours can be very scary and stressful. When mine was gone for 6 days, I was completely stressed-out, barely sleeping, and so scared to lose such an important family member.
But the odds are good that you will find him or her. The ASPCA concluded that 93% of lost dogs are reunited with their owners, even after a long time.
The situation may seem very scary and you are probably repressing those terrible thoughts of the worst. But it is more than likely that you will get to cuddle and treat your dog again. Here is why:
Subscribe And Get A FREE gift
Dogs are very resourceful and can survive many days with little food or water.
Most dogs know how to cross streets and avoid cars.
It takes time for people or authorities to contact you.
Most people are not dog-nappers.
Sometimes dogs need a bit of time before they start to want to go home again.
You might be wondering why your dog has run away. The fact is, dogs can run away for many reasons. And most have nothing to do with you. You don't have to feel guilty that you didn't pay enough attention, or that your dog doesn't feel appreciated.
What Can You Do To Help Getting Your Dog Back
To help you end this terrible situation we have accumulated the best advice from dog owners worldwide and professional trainers.
Stop Searching for a moment – You need to divert some time to increasing your reach because one person alone cannot cover much ground.
Put up flyers and ads – Make sure you use the clearest pictures of your dog, and very big letters to get people to notice. Place the posters at eye height on lamp posts or trees in places where people frequently come.
Use Social Media – With social media it's possible to reach a lot of people. But you need to make sure that you reach the right ones. Hashtags will help people find your posts. Search for Facebook groups of people that live in that area and post there.
Contact the Local Shelter –  You might have done this already. If not then do it as soon as possible. When people find a dog and can't contact the owner they will often bring it to the local shelter. If you lost your dog far away from home then contact the shelter in that area.
Place a Pet Amber Alert – When parents lose their children they often make use of a service called an Amber Alert. By alerting as many people in the area the chances of the kid being found increase drastically.
You can do the same for your dog.
There are companies that will quickly alert as many shelters, vets and neighbors as possible. Half of the missing dogs get found in the area they were lost so it's really helpful to have lots of people on the lookout.
There are a few of these services like this around. We would recommend this service because:
Within a few hours they had alerted the entire neighborhood when my friend lost their Black Lab. The next day, they got their baby back.
My cousin from Jackson (Ohio) had their Bernese Mountain Dog run off during a walk. They had been searching for two days when they called me desperately. I told them about my friend's experience and they quickly subscribed. Three days later a farmer in the area called them with the delivering news.
Since 2008 Lostmydoggie.com has helped thousands of dogs get reunited with their families. They are a member of the ASPCA – PETA and very highly rated by dozens of google reviews.
Whatever company you choose, professional help will greatly increase your chances if you have 50 to 100 dollars.
Search In The Most Likely Places – You probably have been searching for your dog already, and have noticed how much time it takes to cover any area. So it's extremely effective to cross off areas.
Stop searching for just half an hour and sit down with a pen and paper. Ask yourself the following questions:
Did my dog escape before? And where was he/she found?
Does my dog have a lot of energy and like to walk/run?
Is my dog in heat? Or are there other dogs in heat around my place?
What things frighten my dog?
What things does my dog like to do?
Once you start writing some of these things down, you will get a better idea of where to look. It can be helpful to get a paper map and decide on areas that your dog will very likely avoid.
Search At The Right Times – When dogs are alone, their natural instincts will come back and cause them to be most active during dusk and dawn. Search in the most likely places during these times.
Make sure to bring a powerful flashlight. With a good flashlight, you can illuminate a much larger area and spot a dog. It will also help you get around in outdoor areas and keep you save from tripping over things.
Don't Chase Your Dog – If you find your dog but he or she starts moving away, don't run or walk in pursuit! This is very counter-intuitive but very important! You are reducing your chances of getting your dog back by chasing it.
When a dog is lost and alone for 24 hours it can get stressed and anxious. The dog just wants to be safe and avoids anything remotely scary. It doesn't mean that the dog hates you. If you do go chasing the dog, you will reinforce it to become more scared. Some dogs become so traumatized that they stay away from humans together.
Place food and Familiar items in the area where he/she got lost.
Dogs are naturally good at tracking. And when they find get lost, they fall back on this amazing skill to track their own trail!
When they do, they can end up in the car park where you left.  If your dog doesn't find you there, it will leave, and your chance of finding it is even lower.
If your dog finds familiar smells and some water, it will stay in the area.
Then you go and check this place, at least once a day, and during different times. Because dogs are strongly habitual: if you always check at the same time, you could just be missing each other.
Use A Bloodhound – It makes sense to use a dog in order to find a dog. And bloodhounds are the best dogs for finding things. If you live in Florida you should contact my friend, and award winning bloodhound handler, Landa Coldiron. She has several specialized dogs for finding lost pets (including dogs) and she has helped over 180 people be reunited with their pet.
Stay Positive –
Getting upset and feeling bad will not help you get your dog back. This is a bit harsh, I know. But you are really better off with staying positive and doing everything you can. Many dogs get lost every day, and many are found. Look for what you can do, and do it!
I sincerely hope that you will find it as soon as possible!
 How To Prevent it From Happening in the First Place
Let's make sure that you never have to go through this again with some prevention measurements. Many pet owners know the importance of collars and tags.  One reason is the presence of collars and dog tags will let anyone who sees the dog know he is not a stray.  A second reason is they can contain identifying information so a rescuer will know who to call and how to contact you.
Tags and collars are not enough to keep him safe.  These products do not provide protection from traffic accidents and other accidents, or from individuals who steal dogs.  Fortunately, there is another product you can purchase that will significantly increase his safety, and help you find him before a tragedy occurs. Additionally you can use an electronic pet toy to keep an eye on your dog.
Dog Tracking Device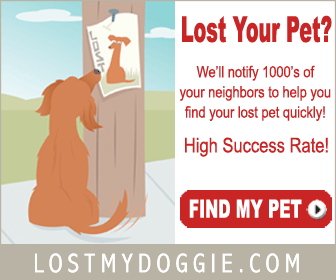 A dog tracking device is an inexpensive, worthwhile investment.  Whether he runs away, breaks away, or disappears when he is not supervised, this device will help you know his whereabouts.  You can locate your pet and reunite before anything happens to him.
Check out our post on whether GPS dog Collars really work
Dog Training and conditioning
Dogs that are happy rarely run away. They can still get lost because they run after something. But its always a good idea to train your dog well. You will have more fun and less stress and so will the dog. Take a look at our dog toy reviews to find something for your pooch. It's a common misconception that dogs don't want to be trained. They might not immediately understand what you want from them. But it's much better than having a dog that doesn't know it's place and a frustrated owner.